Chuck Bond
Trumpet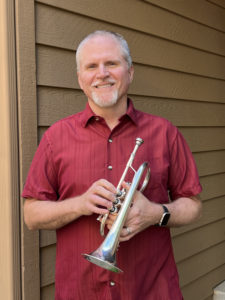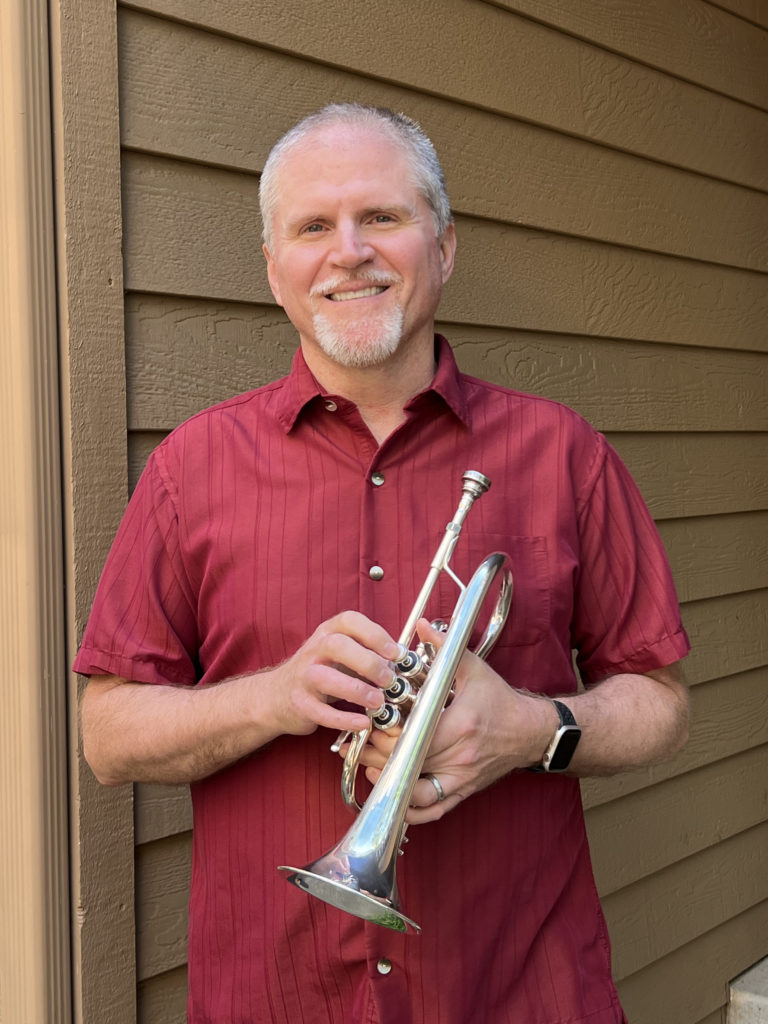 A native of Baltimore, Chuck started playing trumpet in the fourth grade, advanced fairly quickly, and by high school was playing professionally as a soloist in nearby churches and in local college and dinner theater productions of Broadway Musicals. While attending the Peabody Conservatory in Baltimore, he worked summers in the Busch Gardens German Festhaus band, and then in Nashville at the Opryland USA theme park. After graduating from Peabody with a degree in music education and a performers certificate, Chuck moved to Nashville where he was lead trumpet for the premier season of Opryland's General Jackson Showboat. After several national tours with Mr Jack Daniel's Original Silver Cornet Band, and years of national touring Musical Theater productions, Chuck became a founding member of the Titan Hot Five jazz band (later becoming Seven) which was a mainstay at jazz festivals. Chuck continues to freelance in all genres of music including solo trumpet, jazz combo, brass quintet, chamber and symphony orchestras, blues and funk show bands, and pretty much anything else that uses a trumpet, including the occasional "call to the post" at a horse race.
Shelley Burns
Vocals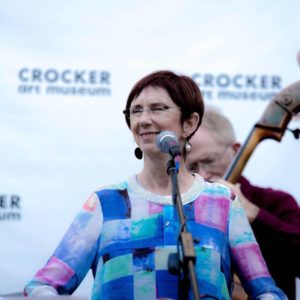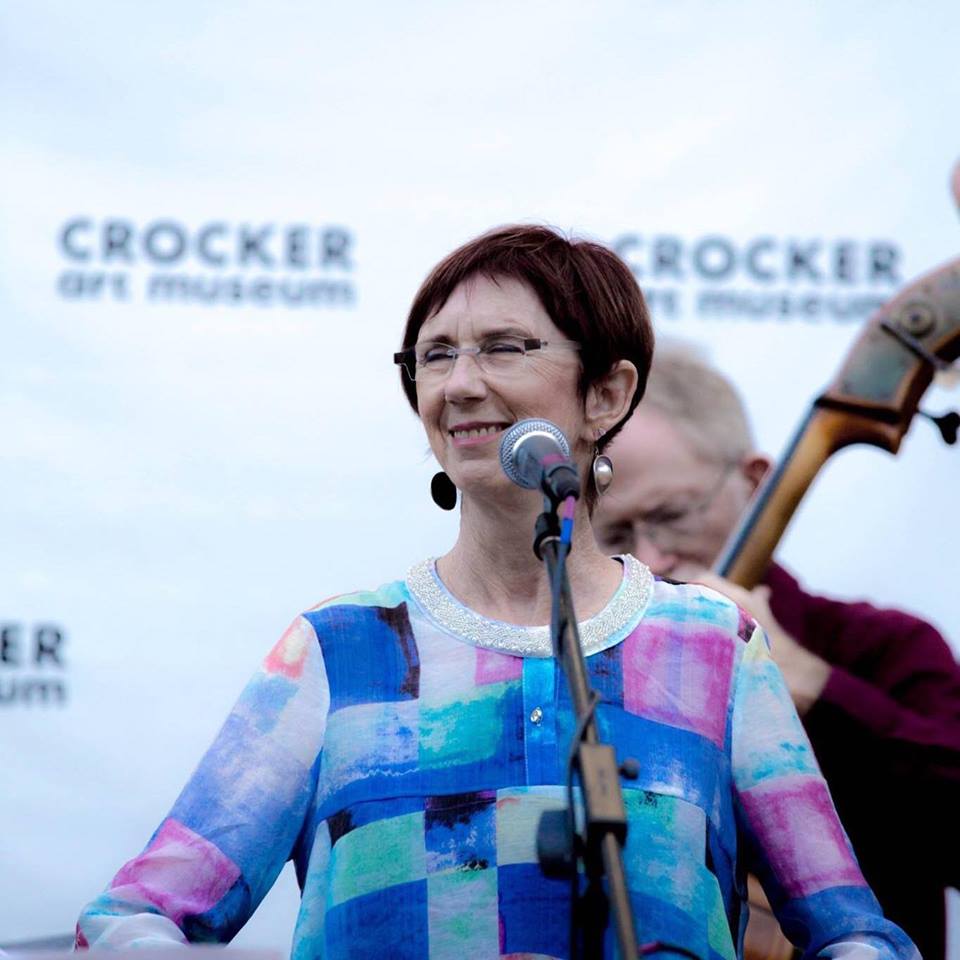 Shelley Burns started singing and dancing as a child with the Burns Sisters Quartet and continued as a featured vocalist in jazz and pop groups, radio and television commercials and recordings.
Shelley performs with a number of Sacramento musical groups, and with her band "Shelley Burns and Avalon Swing."  She has an extensive knowledge of standard jazz repertoire, having over forty-five years of experience as a professional jazz vocalist, working with world-class musicians.
Shelley participated in the Edinburgh Fringe Festival '96, and was a featured guest artist at the '96 International Jazz and Blues Festival in Edinburgh, Scotland. Her recordings have received airplay on jazz radio stations across the U.S. She has performed at numerous jazz festivals, on jazz cruises, and is a two-time nominee as best jazz musician for the Sacramento Music Award.

Shelley has been teaching voice for over thirty five years, and is a certified Speech Level Singing Instructor. Her lessons are filled with helpful breathing exercises, health tips for singers, and application of technique to song. Visit Shelley's home page at Shelleyburns.net.
Chris Dawson
Piano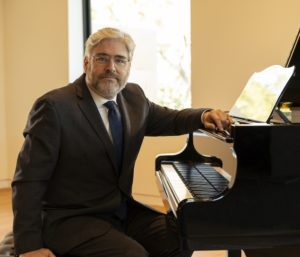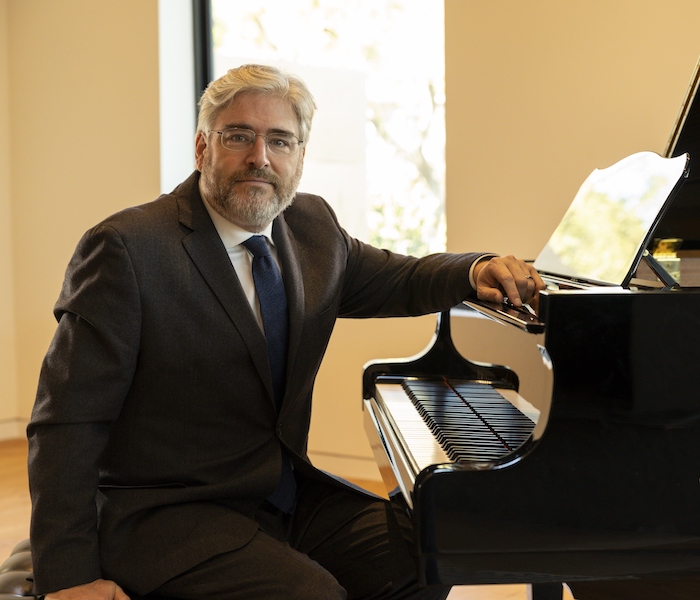 Chris is a versatile and in demand Los Angeles based pianist, working within the traditional and modern jazz scene.
Dawson has performed with vocalists Tierney Sutton, Patti Austin, Nancy Wilson, and has also collaborated in duo piano performances with renowned pianist Dick Hyman.
Chris has recorded numerous projects for producer David Foster, and was sought by pianist and composer Larry Goldings to contribute Harlem stride piano stylings in the Netflix original series, "Self Made: Inspired by the Life of Madam C.J. Walker".
Dawson has recorded for Warner Brothers, Verve, and Arbors Records on projects that feature singers Renee Olestead, Rebecca Kilgore, and legendary jazz bassist Charlie Haden.
While attending the USC Thornton School of Music, Chris studied privately with jazz greats Cedar Walton, Jimmy Rowles, Alan Broadbent, and arranging-composition with bassist John Clayton.
Chloe Feoranzo
Clarinet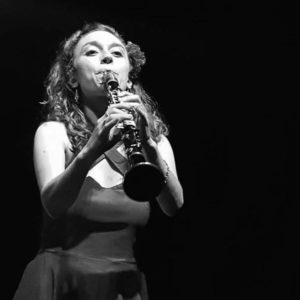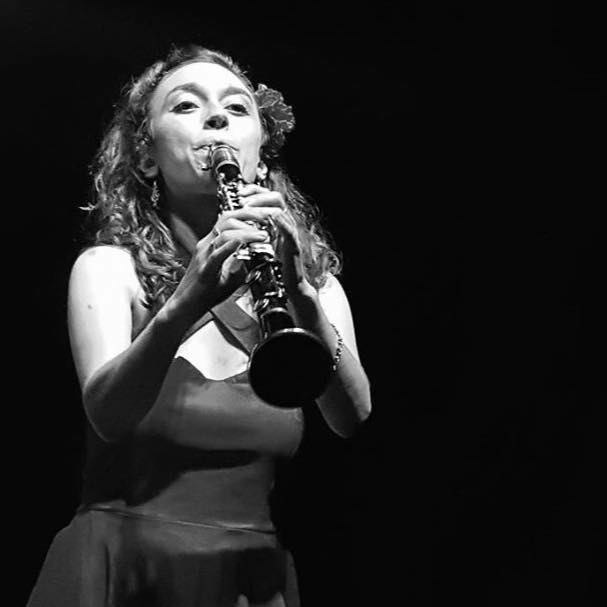 Chloe Feoranzo is a clarinetist and saxophonist who has been performing professionally since the age of 15. She grew up playing in youth orchestras, musical pits, along with swing, traditional jazz bands and guest artist at festivals of the Southern California area.  She completed a three year tour with Pokey LaFarge from 2013-2016 appearing with the group on various shows such as The Late Show with David Letterman, Prairie Home Companion, the Grand Ole Opry and The Voice. She has three featured videos through Postmodern Jukebox with a combined total of 7 million views and rising. She has been on various tours since 2017 with Postmodern Jukebox, Asleep At The Wheel and as a full-time clarinetist with Shake Em' Up Jazz Band. She now resides in Los Angeles, CA performing with various groups around the city.
Alphonso Horne
Trumpet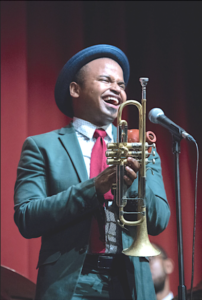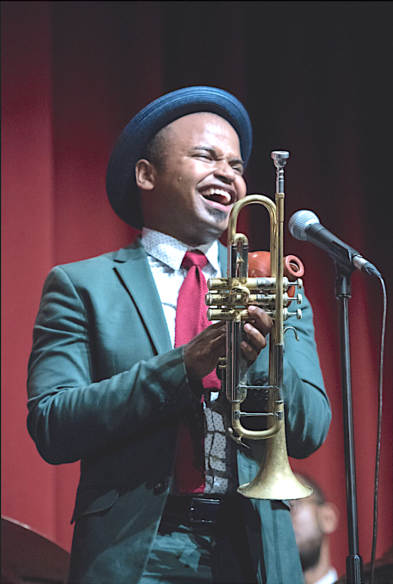 Trumpeter Alphonso Horne is a two-time Grammy nominated trumpeter named by Wynton Marsalis as one of the rising stars of the next generation. Horne has performed with many renowned jazz artists including Marcus Roberts, Michael Feinstein, Rhiannon Giddens, Marilyn Maye and Rihanna. Alphonso has won many awards including the National Trumpet Competition (2010). In the August 2011 issue of JET Magazine, world-renowned trumpeter Wynton Marsalis included Horne in a list of 16 young jazz musicians entitled, "Wynton's Picks: Who's Got Next."
Horne has subbed for and toured with Wynton Marsalis in the Jazz at Lincoln Center Orchestra, Count Basie Orchestra, Cab Calloway Orchestra and many more. He has performed in venues and festivals around the world including Monterey, Montreal, and Umbria Jazz Festivals. Horne has also performed in several Tony- Award winning Broadway shows including "After Midnight" and "Shuffle Along" featuring guest artists Fantasia Barrino, Dulé Hill, Toni Braxton, Audra McDonald, Savion Glover and many more.
Alphonso can also be seen on CBS's "The Late Show with Stephen Colbert" and in the jazz biopic, "BOLDEN".
Mr. Horne holds degrees from Florida State University (BM), and The Juilliard School (MM).
Devan Kortan
Guitar & Banjo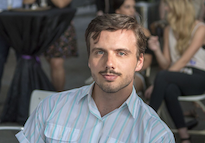 Devan Kortan is a guitarist, banjoist, and vocalist from Sacramento and has been involved with the Teagarden Jazz Camp since 2012. He got his start in the acclaimed jazz program at Rio Americano High School and studied with the likes of Steve Homan, Eddie Erickson, Mark Elf, and Howard Alden and was awarded for his banjo playing by Wynton Marsalis at the Essentially Ellington Competition. A naturally gifted performer, he's delighted audiences all over the world at festivals, on the radio, and on cruise ships. He's spent the last year on the east coast appearing with David Ostwald's Louis Armstrong Eternity Band and at the historic Deer Head Inn.
Jacám Manricks
Reeds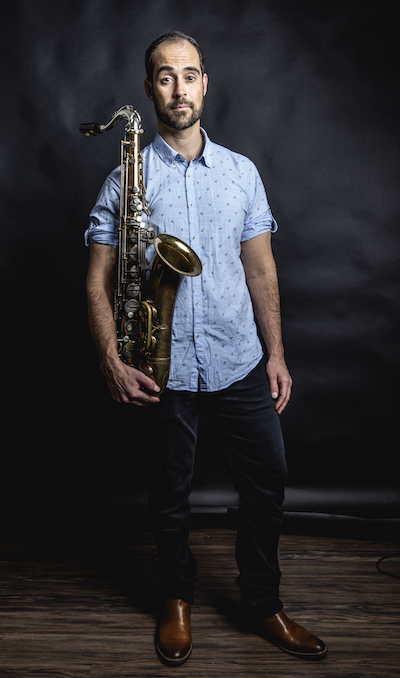 Jacám Manricks hails from a distinguished musical family with global reach. His parents played in the Queensland Symphony Orchestra in his hometown of Brisbane, Australia, and his paternal grandparents were also accomplished musicians. Though he never met his grandfather, who was born in Portugal's Indian colony Goa, he inherited a passion for jazz from him. An alto saxophonist and clarinetist, Mario Manricks went on to earn a good deal of renown as a jazz and classical reed player in post-World War II Sri Lanka.
"I still have his Selmer Mark VI alto saxophone and several of his clarinets," Manricks says. "He got well known leading a big band, but he also played classical music. My grandmother, a concert pianist, performed with him on Sri Lankan radio."
After earning a degree in classical and jazz saxophone and honing his skills on multiple woodwinds, Manricks started working steadily in pit bands and orchestras while also forging close ties with the top jazz players in Sydney. The great Sydney-based Kiwi pianist Mike Nock, a founding member of the pioneering Bay Area fusion band The Fourth Way with violinist Michael White, drummer Eddie Marshall, and bassist Ron McClure, became an important mentor. Other mentors were multi-instrumentalist James Morrison and his brother John, a renowned Sydney-based bandleader and drummer.
A study grant paved the way for Manricks to move to New York City to study at William Paterson University's vaunted jazz program. After attaining a Master's in Composition, he went on to earn a Doctorate of Musical Arts degree in JazzArts from the Manhattan School of Music in 2007, a program that allowed him to pursue his love of classical music as well as cutting-edge jazz.
Since relocating to Sacramento in 2014, Manricks has built a home studio and intensively studied the art of sound engineering. A dedicated educator who's conducted master classes and workshops around the world, Manricks was part of the music faculty at the University of California, Davis for 5 years.
Carson Messer
Drums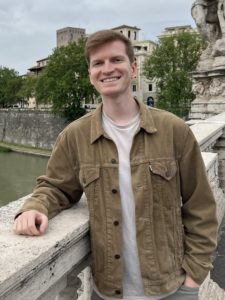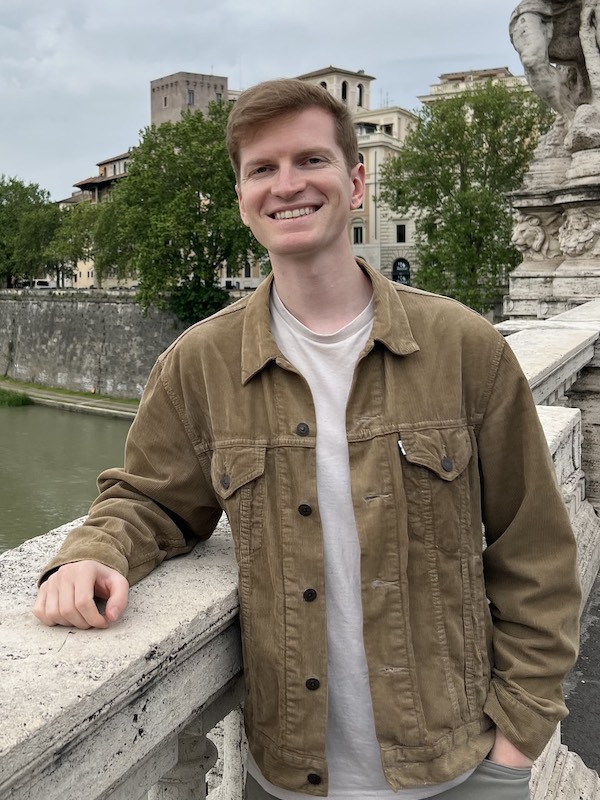 Carson is a Sacramento native currently based out of San Francisco, where you will often find him swinging on the drums with friends Dexter Williams, Spencer Hoefert, Vic Wong and others at Bay Area venues. As a teenager, he studied under Tim Metz and he attended the Teagarden Jazz Camp multiple times, meeting lifelong friends that he still plays music with to this day. After high school, Carson completed his BA in Economics at UC Berkeley, while also playing drums in the university's jazz program directed by Ted Moore.
Carson was offered the opportunity to be a camp counselor here at TJC in 2022, and found working with the next generation of musicians to be super fun and rewarding. He is excited to return for another year as a faculty member.
Tim Metz
Drums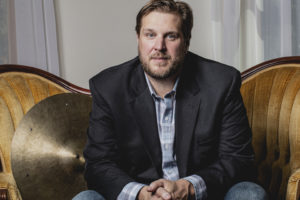 Tim Metz is a native of Sacramento, having left to attend William Paterson University in Wayne, NJ earning a BM in Jazz Studies in 2001. He returned to Sacramento in the Fall of 2001 where he quickly became one of the top call jazz drummers. In between a heavy teaching schedule—over 40 drum students per week—Metz continues to consistently perform with some of the world's greatest musicians, including alto sax masters Jeff Clayton and Jacam Manricks, pianists Joe Gilman, the legendary Donald Brown, Art Hirahara, and Jim Martinez, guitarist Larry Koonse, bassists Darek Oles and Todd Johnson, and The Santa Rosa Symphony Pops to name a few. He is also one of YouTube's most popular Jazz Drum Lesson Creators with over 2 million views on his channel.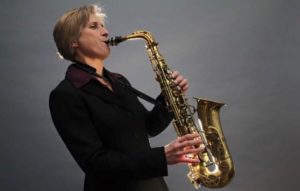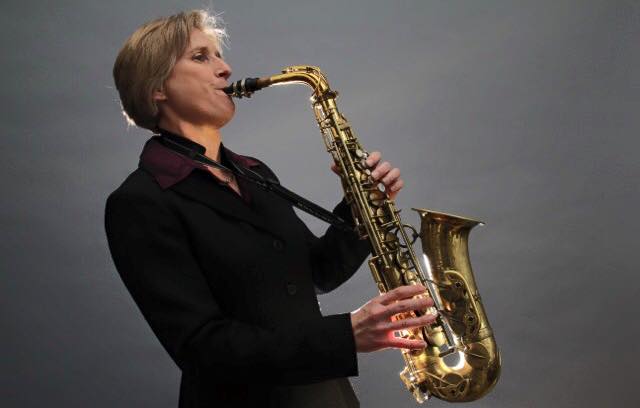 It's difficult for Anita to remember a time that she wasn't completely obsessed by music. She was born in the tiny town of Ceduna, Australia but grew up Sydney surrounded by all sorts of music and musical activities. By the age of 10 she was already studying guitar, flute and clarinet, singing in choirs and playing in groups. Anita attended a specialty high school attached to the Sydney Conservatorium of Music. Here she focused on classical clarinet and piano. After hearing a masterful jazz duo play live at a music store she knew what kind of music she was going to play! She taught herself alto saxophone, attended many music camps and formed a jazz quartet with her bass-playing sister. The group performed on television, radio and at concerts around Sydney.
​In 1990, armed with an Associate Diploma of Jazz Studies from the Sydney Conservatorium of Music (as an arranging major!) she taught clarinet and saxophone, played in bands, freelanced in pit orchestras for musicals and backed local and international acts.
​Anita toured Australia with virtuoso multi-instrumentalist James Morrison and was featured clarinet soloist in John Morrison's "Swing City" Big Band. She has also played in Europe and toured to Thailand as lead alto with the Mell-o-tones. Anita has recorded for many Australian artists in jazz, pop, rock and children's music (the Wiggles - for those of you with young children) and for 6 years was the co-host of a weekly jazz radio program in Sydney. From 1994 – 2001 the Anita Thomas Quartet/Quintet played at festivals and concerts throughout Australia. Her band made two recordings. For many years Anita taught at both junior and adult Pan Pacific Music Camps (Australia), where she had once been a student and learned so much about jazz from local jazz musicians.
​2005 was the first year for Anita to join the staff at the Mammoth Lakes Jazz Jubilee Jazz Camp and the Teagarden Trad Jazz Camp.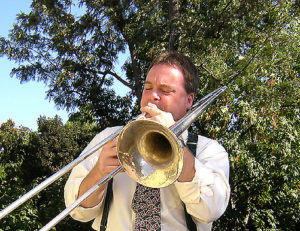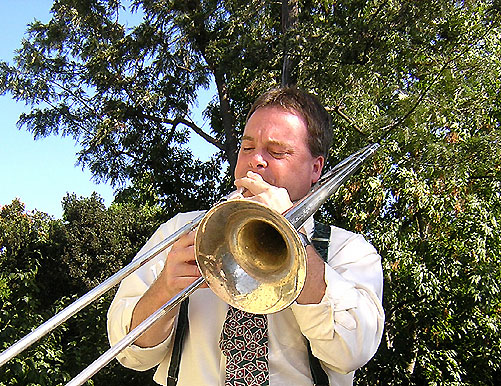 Greg Varlotta began studying trumpet under his fathers direction in Lockport, Illinois at the age of 5 and received his music degree in trumpet performance from Arizona State University in 1985. He has performed with numerous symphony orchestras, brass quintets, jazz ensembles, and is the recipient of the prestigious Arion Trumpet Award. In addition to his accomplishments on trumpet and trombone, this multi-talented performer also enjoys playing bass, guitar, banjo, piano, tuba, singing and tap dancing. Greg has a strong interest in music technology and enjoys working with computers, programming synthesizers, composing and arranging music.
In 2006, Greg completed a 21 year tour of duty as a staff musician with The Side Street Strutters at Disneyland in Anaheim California. He currently resides in Phoenix, Arizona and has toured with the Brian Setzer band, Nils Lofgren and continues to tour with the Side Street Strutters.
Dexter Williams
Bass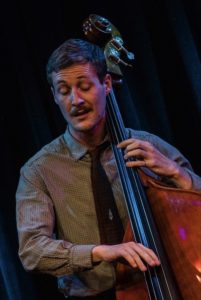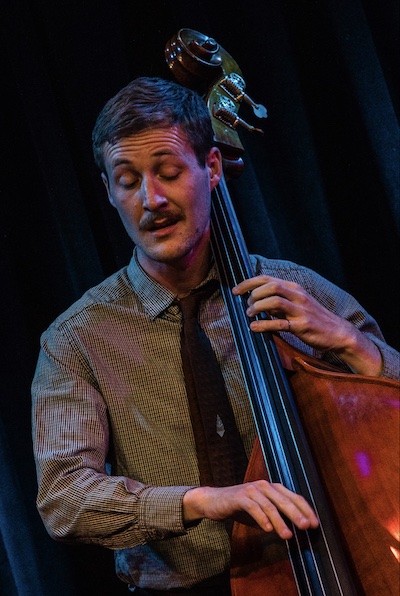 Dexter Williams is a Teagarden Jazz Camp alumnus based in San Francisco. While his roots are firmly set in traditional jazz, he is also versed in swing, bebop, straight-ahead, and jazz Manouche styles. He currently makes a living as a full-time bassist playing all around the Bay Area, working with local jazz musicians. He is also the bassist for the Hot Club of San Francisco, a jazz Manouche group that bases their style off of Django Reinhardt's Hot Club de France.
Dexter is a product of the Sacramento traditional jazz scene; he was once a member of the youth band TNT and a camper at Teagarden Jazz Camp. He is thrilled to now have the opportunity to go back and teach others what he's learned then and since.